History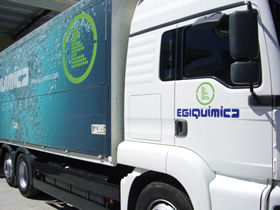 Egiquimica, Lda started its activity in 1989 as a family business in the village of Meios – Guarda. In 1998, to keep up with all demands, the company moved to new installations in Guarda's Industrial Park, equipped with modern process equipments and procedures capable of assuring total product quality.
Company growth was supported by production increase from initial 0,5 ton/day to present capacity of 50 ton/day. In order to provide solutions to all of our clients needs our products range from Personal Hygiene to Dishwashing, Household Cleaners, Pavements Treatment, Automotive Cleaners, Laundry, Biocides and other more specific applications.
Egiquímica has been widening to new fields of action, conquering new market segments and making our brand well known. That is being accomplished with a consistent marketing strategy and an investment policy to modernize facilities, train our human resources and develop new products. All that allows, and will keep allowing, our clients full satisfaction.
This is our proposal and our mission. We're certain you will find in us a valuable business partner! Contact us!